Secret Lair is a Magic: The Gathering brand featuring ultra-collectible card drops showcasing eye-popping designs and never-before-seen art styles. At https://secretlair.wizards.com/us, you can view current and past sales, and you can sign up to receive email notifications of new drops. This article covers some common questions about Secret Lair.
FREQUENTLY ASKED QUESTIONS
Where can I find details about specific drops?
Please see the articles here:
Secret Lair is "Timeboxed to Demand". What does that mean?
"Timeboxed to Demand" means you have a specific window of time to purchase each drop. If you order within that window, we will ship the product when it becomes available. We try to keep some in stock and ship orders as we receive them. We also do our best to predict how much of each drop we'll need ahead of time, but depending on how quickly you order, you might need to wait for more to be produced. Between printing, processing, and packing, we estimate it will take six to ten weeks for backordered product to ship out.
We know that can feel like a long time, but we'll let you know when your order is ready to ship out. We'll also keep you posted if there are any unexpected delays in the process. With that said, if you haven't heard from us in a bit, or you're seeing others receive their orders earlier, rest assured—we're working hard to get cards into your hands. You are not forgotten.
How can I contact Wizard of the Coast customer service?
When will my Secret Lair drop ship?
Most Secret Lair drops are "Timeboxed to Demand", meaning your order will ship when it is in stock. Until your order ships, you can follow progress for each drop here.
Which payment methods do you accept?
You can make a purchase with a credit card (including Visa, Mastercard, Discover, American Express), or PayPal (in relevant countries).


Is the payment secure?
All information sent to the payment service providers is encrypted and protected with the latest SSL technology, most widely used in the world. It is the guarantee that the transmission of your sensitive information is secure. Moreover, we do not store any payment card information on our servers. The transaction statement will be labeled Scalefast in your bank account.


How can I update the information on file for my Preorder?
If you have a preorder for which you have not yet been billed, check your confirmation email for self-service options. Otherwise, please contact customer support here for assistance.


When will I be billed for my Preorder?
Most customers will not be billed for preorders during checkout. Instead, we'll bill most customers shortly before their order is ready to ship. Before they're charged, customers will be notified at their provided email address. Certain very large orders may have their payment collected during checkout.


How does Brexit affect my order?
Please note: Parcels being delivered to UK customers may experience some delays due to the new Brexit agreements.
We are working hard to ensure that our UK customers do not encounter any additional import duties or custom fees.
If your question has not been addressed, please contact us here.


What happens if my Preorder debit fails?
If your payment is unsuccessful, we will notify you via email and provide an opportunity to adjust your billing details. In that email, we will advise you when another attempt to process will be made. After three unsuccessful attempts, your order will be cancelled.


What is a DDP shipment?
DDP stands for 'Delivered Duty Paid'. This means that Scalefast will collect and pay import fees and Customs duties on your behalf, ensuring timely delivery and limited interaction with your local customs agency. Orders shipped to these countries are DDP: Canada, Brazil


Why am I being charged US Taxes on my international preorder?
While your preorder total may reflect US Dollars, any tax reflected during checkout is specific to your imported product. It could be your local sales tax, import fees, or duties converted to USD as applicable. If you have any concerns, we'd be happy to review your preorder and clarify. Please feel free to contact us here.


My international preorder included taxes. Will I still have to pay customs fees?
Unless your order is being shipped to a country on the list above, it is being shipped DDU or 'Delivered Duty Unpaid'. Most preorders include local sales tax which is collected by Scalefast. This is different from customs fees which vary from country to country and often adjust depending on the contents and size of your order. Under DDU, you are still responsible for paying any applicable import fees or duties requested by your local customs agency.


My local customs agency is asking for an amount of money that matches my taxes listed on my preorder. Am I paying the same tax twice?
In rare cases, a preorder's sales tax and import fees may be identical amounts. This often causes confusion for customers as it appears that they're paying the same tax twice. While Scalefast collects applicable sales tax on all orders, they do not manage customs or import fees for DDU orders. You still have to pay the customs fee.


If my order is being shipped DDP, why do I have to pay shipping charges?
This is common misconception about DDP shipments. DDP is a convenience offered to customers which allows you to purchase confidently, knowing that the total you see during checkout is your final price. While Wizards of the Coast and Scalefast do manage all payments to couriers and customs agencies for your preorder, we typically do this by remitting funds collected as part of the preorder process. Any applicable shipping fees for your order will be displayed during checkout.


How many copies of a Secret Lair drop can I purchase?
Quantity limits vary by drop, though usually customers can purchase up to 60 of each drop.


Why isn't my PayPal payment working?
We do not accept payments with unverified PayPal accounts or with eCheck. To make a payment with PayPal without having a credit card linked to your PayPal account, you must have a sufficient balance on your PayPal account.


Why does the page keep telling me my purchase is pending?
While usually immediate, your order can sometimes take up to 4 hours to be processed. Beyond 4 hours, please try making the purchase a second time.
If you are using PayPal, a payment method that directs you to an external website, you will be redirected to the store after filling in your billing details. This procedure will confirm your purchase, and may take a few minutes. To avoid purchasing failures, please do not click on the back/refresh button or close the payment window before this process is complete. Doing so may result in cancelled or duplicate orders.


I did not receive an email confirming my order. What can I do?
Some email providers will automatically send our emails to the junk, promotions, or spam folders. Please verify first that the confirmation email did not get sent to one of these folders. This can also take a few minutes after the purchase is successfully made. If your email still cannot be located, please contact us, at customer support here and provide us with your purchase details so we may verify your purchase status and send a confirmation email back to you.


Where can I find my order ID?
Your order ID can be found in your order confirmation email from no-reply@secretlair.wizards.com once you completed your purchase.


I would like to cancel my order. How can I proceed?
If you have a preorder for which you have not yet been billed, check your confirmation email for self-service cancellation options. All purchases are final at the time of sale and we do not accept cancellations. Once payment has been collected, sales are considered final and we are unable to accept cancellations. EU customers have the right to withdraw from this Agreement within fourteen days without giving reasons. For details, please review our Refunds and Cancellations policy here.


Scalefast appears on my account statement. Shouldn't I be billed by Wizards of the Coast?
Scalefast is our authorized partner for the products available on the Secret Lair, they handle the payments for the Secret Lair as an authorized merchant.


Why was I charged for a failed purchase or charged twice for a single item purchased?
Such purchases should not clear your financial institution's fraudulent transaction verifications. Your financial institution may hold these funds for up to 5 business days before validating or canceling the duplicate transaction. During this timeframe, Scalefast does not collect the held funds from the pending transaction. Please contact your bank or financial institution to ensure the cancellation of the duplicate transaction. We recommend monitoring your banking information to confirm the duplicate transaction has been canceled. Should charges continue to be pending after 5 business days, please contact Wizards of the Coast customer support here so that we can investigate and help resolve this issue.


What is the difference between card sleeves and card styles?
In MTG Arena, card sleeves are cosmetic upgrades that change the way the back of your cards look. These stylish improvements can be applied from the deck builder page by clicking on the deck box and then selecting which card back you'd like to use from the ones you have available.
Once acquired, a card sleeve can be applied to any deck in your collection.
You can choose the card sleeve to apply on a deck-by-deck basis; you can have different card sleeves for every deck, if you so desire!
Applying a card sleeve is optional. You'll be able to swap between card sleeves and the default card back in the deck builder.
Card styles, on the other hand, allow you to change the way the front of your cards look in MTG Arena. You'll be able to see which cards have card styles in-game through the deck builder, which has a filter option specifically for card styles. Selecting a card will also provide more information on how the card style can be obtained.
Card styles do not add card/s to your collection.
Once acquired, a card style can be applied to all cards with that illustration—you don't need to acquire it more than once.
Card styles are based on the card's illustration. This means that if a card shares an illustration across sets, once you've unlocked the card style, it will apply to any card in your collection with that illustration. If the card appears in a set using a different, it will have a separate card style you can acquire.
It is possible to acquire card styles for cards you do not have in your collection. If this happens, you will be able to apply the style once you have the card in your collection (you won't have to re-acquire the style).
Applying a card style is optional. While the option is enabled by default, you will be able to swap between using card styles and the default illustration in the deck builder.
How are Traditional Foil and Foil-Etched cards different?
Traditional foil cards have a rainbow holographic pattern with a smooth surface in the foiling. Foil-etched cards have a texture in the foiling.


Where can Secret Lair drops be shipped?
Purchases can be shipped to the following locations:
United States
Your local post office or customs exchange may require additional payment to release the product when it arrives in your region.
Argentina, Australia, Brazil, Canada, Chile, China, Colombia, Costa Rica, Guatemala, Honduras, Hong Kong, Japan, Macao, Mexico, New Zealand, Panama, Paraguay, Peru, Singapore, South Korea, Taiwan, Uruguay and Vietnam.
Austria, Belgium, Bosnia and Herzegovina, Bulgaria, Croatia, Cyprus, Czechia, Denmark, Estonia, Finland, France, Germany, Greece, Hungary, Iceland, Ireland, Italy, Latvia, Liechtenstein, Lithuania, Luxembourg, Malta, Netherlands, North Macedonia, Norway, Poland, Portugal, Romania, Serbia, Slovakia, Slovenia, Spain, Sweden and Switzerland.
United Kingdom.
For any other regions around the world, please know that we are working on expanding our global reach to additional locations in a legally compliant way that also provides a good user experience. You are not forgotten.


What if I discover a defect with my Secret Lair drop?
If you have purchased a Secret Lair product from our online store, and you discover a defect with that product, we will be happy to help you with a replacement via our support portal.


Are the Digital codes exclusive to the Secret Lair?
MTG Arena – The sleeves that are redeemable by code included with your Secret Lair Purchase may be on sale in the MTG Arena client at a later date.
Magic: The Gathering Online – The individual cards that are redeemable by code included with your Secret Lair purchase are exclusive and will not be sold in the Magic: The Gathering Online Store.
*Not all Secret Lair Drops will come with a digital product.
*Digital Codes are not available in all regions that Secret Lair ships to. Please reference each product page to see if you're purchasing from an eligible location.


My purchase came with digital content. Where can I find the code?
The digital content activation code can be located in the email with the subject line "[Secret Lair] Confirmation of order". Near the bottom of this email, there is a link below the phrase "Download and Activation of your Digital Products".
*This content is not available until your preorder is billed.

Once this link is clicked, it will take you to a webpage to unlock the activation code.
This webpage has a button marked "Unlock the activation key".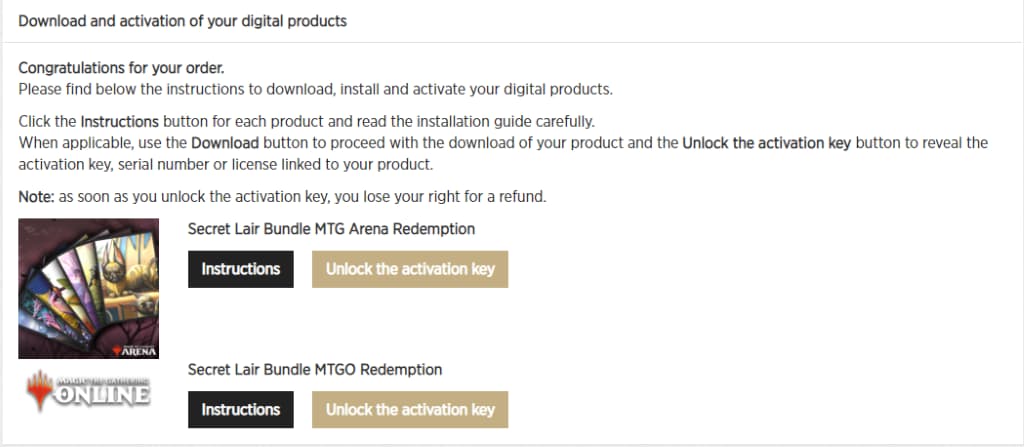 Once this button is pressed, your activation key will display.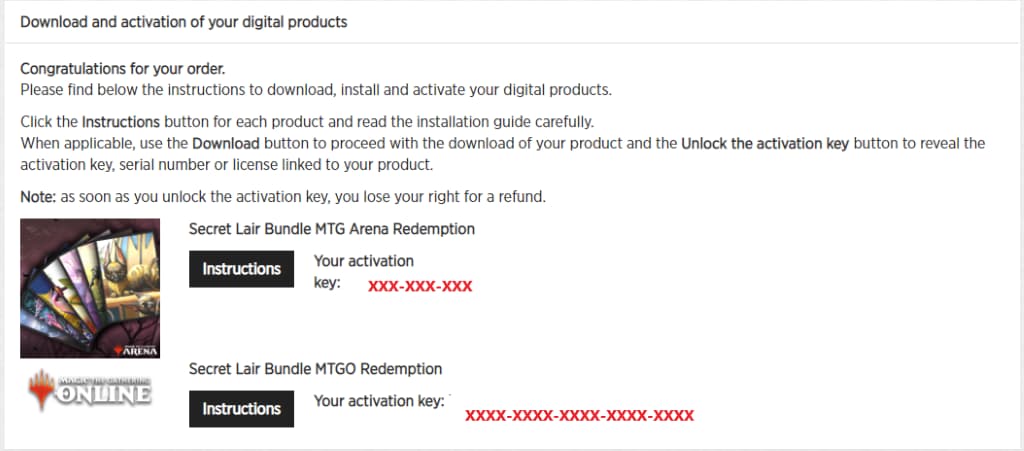 If your product has not yet been processed for shipping, the codes will not be available and will not display the "Unlock the activation key" button.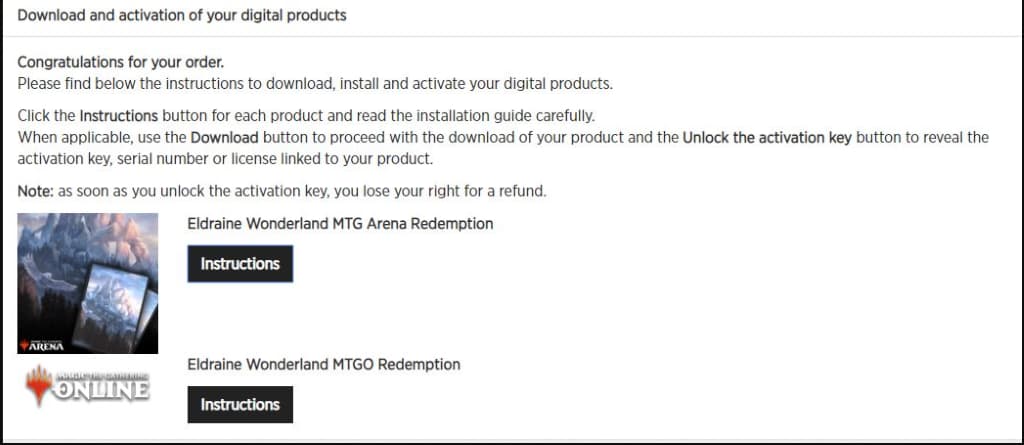 If you are still experiencing issues after your product has shipped, please contact customer service here.


How do I redeem an MTG Arena Code?
Click on the Store tab
Enter your code in the Redeem Code field on the right-hand side of the screen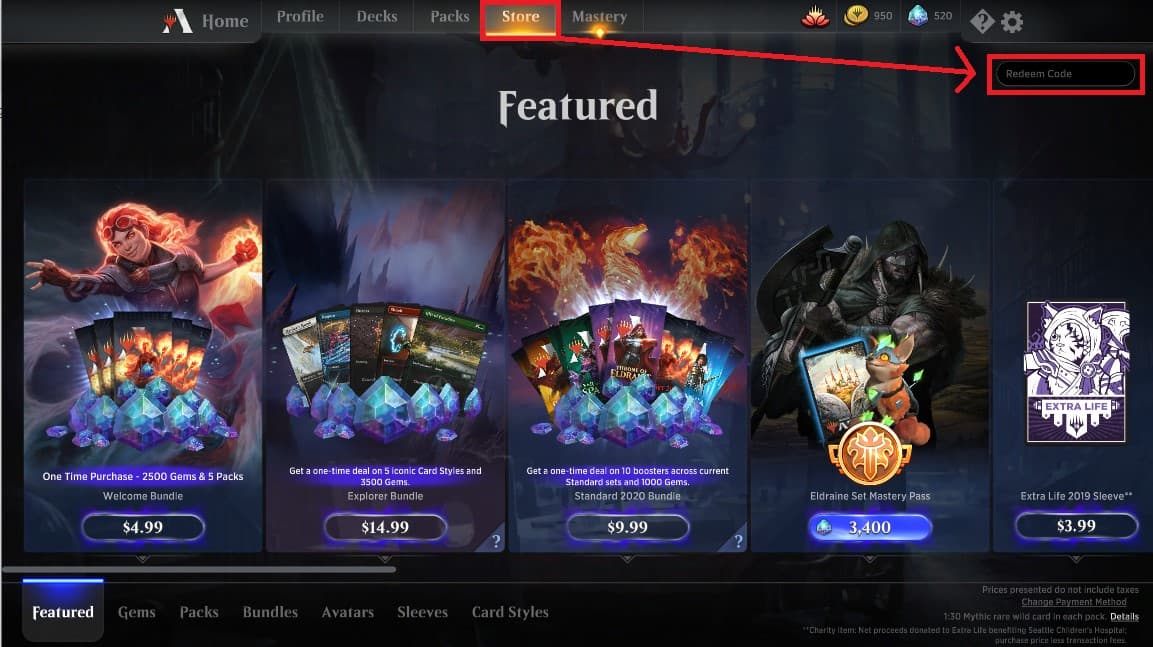 When entering a code, keep the following tips in mind:
Codes are case-sensitive
Most codes are limited to one per account
Avoid any leading or trailing spaces (extra spaces before or after your code, which can appear as a result of copying & pasting text)
Codes that are expired, incorrect, or already redeemed will result in a "Redeem Code Failure" message
If you played in a Prerelease, check your Prerelease Pack for a code that will let you enter an event! It's located on the back of the Token Card next to the rules insert
When redeeming certain older codes on MTG Arena, there is no visual confirmation of what was added to your inventory. There is a prompt that states if the code redemption is successful, however
MTG Arena codes are not available for in-app redemption. Redeem codes via the desktop client or by logging into your Wizards account. Redeemed content is available on your account on any platform.
I have a redemption code from a previous sale, how do I redeem a Magic: The Gathering Online code?
Magic: The Gathering Online – The individual cards that are redeemable by code included with your Secret Lair purchase are exclusive and will not be sold in the Magic: The Gathering Online Store.

1.) After logging into the Magic Online Client proceed to the "Store" Tab.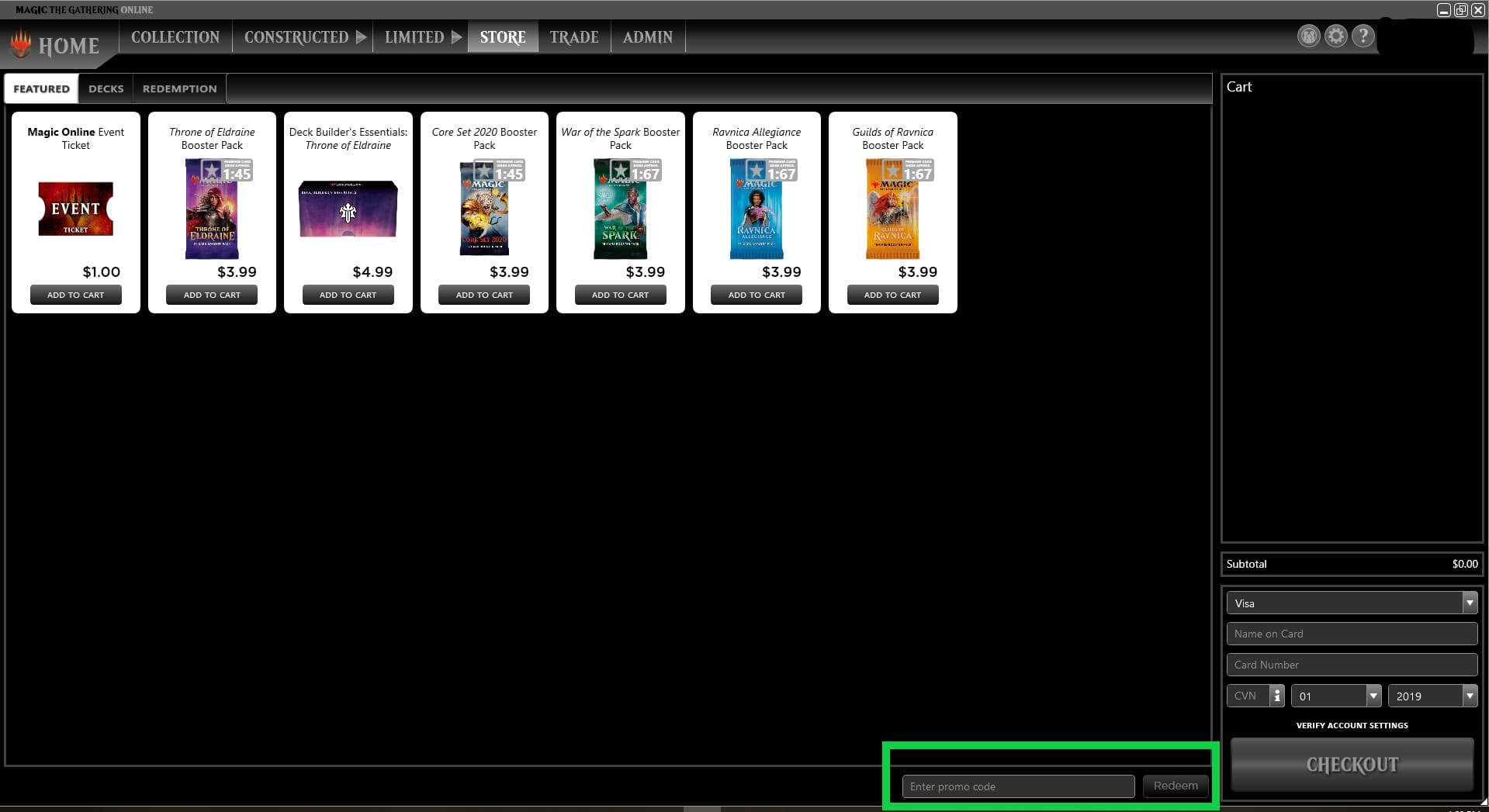 2.) Enter your code in the bottom right corner of the Store and select "Redeem".


My digital code isn't working, what do I do?
Please contact our customer support here.


Where can I find more information about Secret Lair?
For more general questions, please submit the form here.